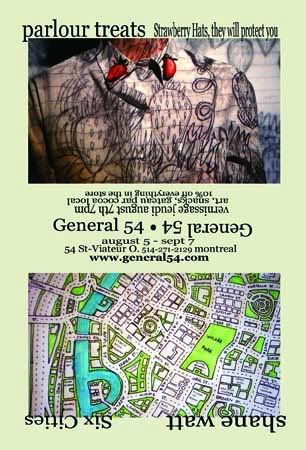 Just to let you know that we are switching the art at the General.
And that means, it's time for a party!
The new show is a split show for
imaginary-map maker Shane Watt
and interdisciplinary sister act
Parlour Treats
.
We are launching it all with a
vernissage Thurday August 7pm
. As usual there will be drinks, intriguing conversation and cake by Cocoa Local (good god I've missed their cupcakes! )
As is verni tradtion, we will be offering 10% off everything in the store.
Parlour Treats
Strawberry Hats, They will protect
Myspace.com/parlourtreats
Parlour Treats is multidisciplinary art collective invented by Sisters Jasa Baka and Tyr Jami. They make clothing and costumes, photography and performances together. Jasa writes and designs narratives while Tyr performs and contributes written material. They take turns behind the camera. Other projects of theirs are Pebble Beach and Twin Party.
Strawberry Hats, They will protect
you began as a coloring book of Jasa's drawings which then turned into a puppet show of the images projected onto performers with overhead projector. The Winks as well as Aya Aikawa and Jasa wrote songs to accompany the narrative. The photos were taken to document the story and projections. The actors with projections on them give the drawn puppets dimension.
Shane Watt
Six Cites
Shane Watt is alive. He walks on two legs. He is currently investigating corners, angles, and spatial orientation in Montreal
I started making maps when I was 7 years old. My brother and I used to write our own Choose-Your-Own Adventure novels based on my maps. Little did I know that many years later I would be inspired to return to mapmaking. This is my way to escape into a world that's just like ours – but a kinder version. Why can't you have vast orchards in the middle of a city? Why are subdivisions - fragmented and false communities – so prevalent? Why can't you build within existing geography and historical structures?
These "six cities" are the document of my travels throughout Canada and the United States,the people, events and places are hidden in the geography....they are the street maps of my memories.